*************************************************************
I also do original art paintings of dog & cat portraits,
landscapes, flowers, commercial illustrations, etc. and I sell quality
prints. Scroll down to view them at my website links below. If you know
someone who might be interested please forward this to them. Thanks!
*************************************************************
This is one of my huge paintings that I did which I will be including in my up-coming art show. You will see series of these kinds in the next couple of days. Most of my big paintings are good for interior design ideas. As you scroll down you will see details of this image. Before you move ahead I would like to let you know that I also do dog and cat portraits.
View my dog & cat art in this link
.
This sunflower painting is currently for sale for only $450.00 as my introductory price plus shipping if applicable. If you will purchase this before August 3 you will receive a FREE quality giclee print (worth about $50.00 to $85.00) of your choice that is available, with size that is about 16"x20" unframe. Great deal! This will go back to its original price of $650.00 after a couple of weeks in my coming art show. Contact me now to purchase this with low price and get your FREE print.
This original art is done in acrylic, pallete knife rendering with textured surface, diptych or two canvas paintings, total size 47"x32" and 2" thick, sides are painted, ready to hang even with no frame. If you are interested just email me now at
jude@judemaceren.com
and put "I want to purchase this sunflower painting" in the subject line. See my other paintings in my
website
.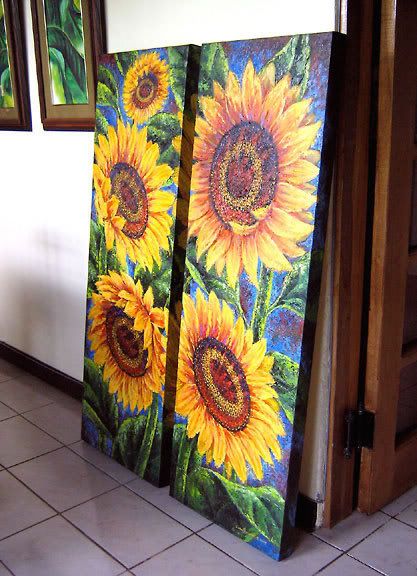 You can also read my satisfied customer's feedbacks in this link;
my happy customer's feedbacks
at my Ebay Store
You can find my art stuff at the following links below.
Please forward this to your art lover friends:
*******************************************************
My Art Auctions at Ebay.com
My Floral & Landscape Art
My Prints at Etsy.com
My Paintings at Yessy.com
My Cards T-Shirts Mugs etc.
at Zazzle.com
My Dog, Cat & People Portrait
My Illustration Portfolio
My MySpace Profile
My Main Art Website