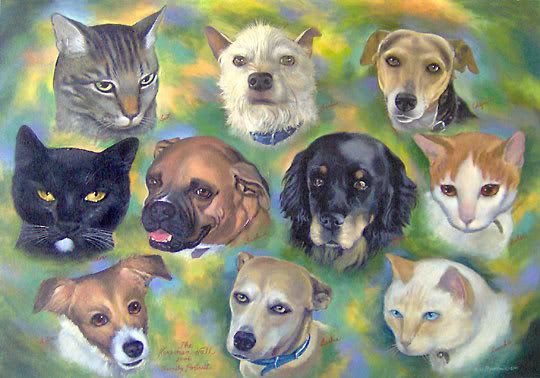 Below are the photos as references.
Click here to see the price and dog portraits
This family portrait of cats and dogs was commissioned by a woman who loves animals. This is done in acrylic original painting on canvas huge size about 48" x 60". The sides were painted so she did not need to frame it. She just took some digital photos of her animals and emailed them to me.
I have currently 15% OFF discount on orders of dogs or cats portraits and ends until June 12th 2007. Place your order now! Email me at jude@judemaceren.com
To view some samples of dog portraits and its price please visit my website
www.judemaceren.com
and click "portraits".
You can also read my satisfied customer's feedbacks at the link;
my happy customer's feedbacks
at my Ebay Store
You can find my art stuff at the following links below:
*******************************************************
My Art Auctions at Ebay.com
My Prints at Etsy.com
My Paintings at Yessy.com
My Cards T-Shirts Mugs etc.
at Zazzle.com
My MySpace Profile
My Main Art Website