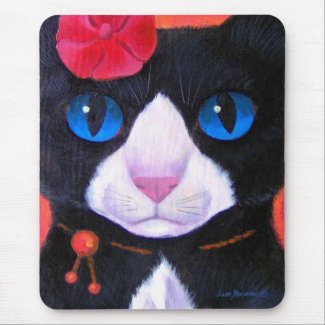 Tuxedo Cat Butterfly Painting - Multi
by
JUDERM
Make your own mouse pad
online at
zazzle
Browse other
Painting Mousepads
Click to purchase
Do you know that the art you created is worth hundreds
or thousands of dollars even if you haven't sold the original yet?
Did you ever sell your painting and get the price you want? Maybe
you sold a small sunflower original art oil painting worth $300.00.
But do you know that it is worth more than that even if you have sold
the original art already?
Why? Because each piece that you created have a buyer in many different forms.
Even if it is not attractive to your neighbor it is attractive to other people that you don't know or to a manufacturer that will reproduce your art in a product many times. The secret is, you have to find these buyers by selling the bundles of rights of each piece of your art that you created. Don't just sell the original art but also sell to have it printed on limited edition or open edition giclee prints. Sell it as stock art to have it re-sell its second rights by re-printing it on different media & publications. Sell it to have it printed in different
merchandize
like: t-shirts, mugs, bags, cards, stickers, etc. You can sell it in a company that sells
t-shirt designs
. Get paid for the design and earn continues royalties.
If you do all these you will realize that one painting alone that you
created is worth thousands of dollars. This process is called
licensing
.
One
illustration
that I did few years ago have earned a total royalties
of more than $7000.00 and still earning until now by placing it at SIS.
So don't let your art just hide in your closet! Make use of its rights to generate
more income
in many different ways. After selling your original art don't stop there! That image alone will still continue to gain profit by licensing it. Some artists who were smart enough to do in this way are earning from $100,000 to $400,000 or to millions of dollars per year! So get your hopes going and make your dreams come true. If this is so, there is no such thing as starving artists.
*************************************************************
CHECK OUT MY PAINTINGS ON CARDS, MUGS, T-SHIRTS, ETC.
You can find my CAT Ahttp://www.blogger.com/img/blank.gifRT printed on these products too.
You can also buy my products with my paintings printed on it;
like cards, mugs, t-shirts, postage stamp, etc. Just go
and visit my art shop at:
http://www.zazzle.com/juderm*
*************************************************************
I also do original art paintings of dog & cat portraits,
landscapes, flowers, commercial illustrations, etc. and I sell quality
prints. Scroll down to view them at my website links below. If you know
someone who might be interested please forward this to them. Thanks!
*************************************************************
Before you move ahead I would like to let you know that I also do dog and cat portraits.
View my dog & cat art in this link
.
You can find my art stuff at the following links below.
Please forward this to your art lover friends:
*******************************************************
My
Happy Customers' Feedbacks at Ebay.com
My Paintings at
Boundlessgallery.com
My Floral &
Landscape Art
My Prints at Etsy.com
My Cards T-Shirts Mugs etc.
at Zazzle.com
My Dog, Cat &
People Portrait
My Illustration Portfolio
My MySpace Profile
My Paintings at Yessy.com
My Main Art Website