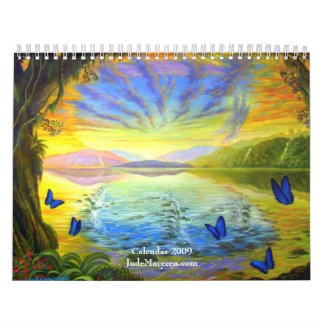 Click to view inside pages or to purchase
I was working on my new Calendar 2009 and thinking which painting images
should I put together. I thought of combining my surrealism and floral images.
I felt inspired because it is a good way to see once again all what I did in
the years of my art career. This calendar exactly shows what I believe, "THERE
IS A RELATIONSHIP OF LOVE IN ALL CREATED THINGS". See for yourself,
browse my calendar! By the way this calendar became the top ten mostly
viewed at Zazzle.com. Check it out here...
My 2009 Art Calendar
.
I became a member of Twitter few weeks ago and the owner of Perfectly Shaped
World website saw my post with my cute avatar Siamese Cat. She featured me
in her blog. You can check it out here
Perfectly Shaped World
Currently I am working on a big acrylic painting of a purple phalenopsis orchid
plant. The unique thing here is that I painted the whole plant with its roots
attached to the trunk of a tree branch full of moss. I wanted to show how it
grows wild in the forest. This will be one of the paintings that I will be
exhibiting soon. Below is my orchids painting job in progress.
CHECK OUT MY PAINTINGS ON CARDS, MUGS, T-SHIRTS, ETC.
You can also buy my products with my paintings printed on it;
like cards, mugs, t-shirts, postage stamp, etc. Just go
and visit my art shop at:
http://www.zazzle.com/juderm*
*************************************************************
I also do original art paintings of dog & cat portraits,
landscapes, flowers, commercial illustrations, etc. and I sell quality
prints. Scroll down to view them at my website links below. If you know
someone who might be interested please forward this to them. Thanks!
*************************************************************
Before you move ahead I would like to let you know that I also do dog and cat portraits.
View my dog & cat art in this link
.
You can find my art stuff at the following links below.
Please forward this to your art lover friends:
*******************************************************
My
Happy Customers' Feedbacks at Ebay.com
My Paintings at
Boundlessgallery.com
My Floral &
Landscape Art
My Prints at Etsy.com
My Paintings at Yessy.com
My Cards T-Shirts Mugs etc.
at Zazzle.com
My Dog, Cat &
People Portrait
My Illustration Portfolio
My MySpace Profile
My Main Art Website